HVAC UV LIGHTS AND AIRSCRUBBER PLUS- WHAT IS THE DIFFERENCE?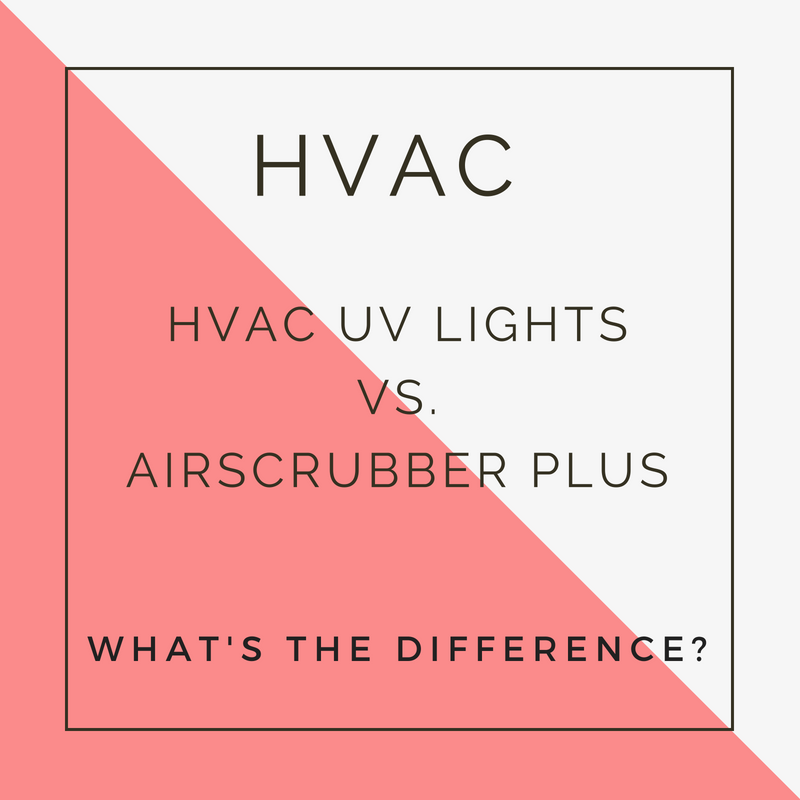 June 13, 2018
By: Patricia Cermignano
Indoor Air Quality (IAQ) has become an increasingly popular topic in recent years. As technology continues to develop and evolve, more IAQ solutions are becoming available to help purify and clean indoor air while alleviating allergy symptoms as well. Two such IAQ solutions are HVAC UV Lights and the AirScrubber Plus. While both solutions help clean indoor air and help reduce common allergy symptoms, there are many differences between the two solutions.
HVAC UV Lights
HVAC UV Lights bathe your air handler's cooling coil with an intense level of UV-V light. This helps eliminate any mold, bacteria or viruses that have built up in your HVAC system by cleaning the coil surfaces to increase the efficiency of your unit and the quality of air in your home. It is also important to note that UV lights work in conjunction with your system's air filters. To maintain maximum efficiency of your UV light, we recommend placing the UV light inside your system near the cooling coils and replacing the UV light bulb once a year.
There are many benefits to having a HVAC UV light installed in your HVAC system. The top two benefits are:
Minimizes dirt and pollution in your HVAC system, thus improving indoor air quality in your home.
Little maintenance is required with UV lights. It is recommended that UV lights only be replaced once a year.
For more information on HVAC UV Lights, please visit our website.
AirScrubber Plus
The AirScrubber Plus helps reduce irritating particles in your home's air-dust, mold and pollen- that are known to trigger allergy symptoms. The AirScrubber Plus works in four ways:
Clean (Reduce Contaminants)- The AirScrubber Plus uses technology that has proven to destroy 99% of all surface contaminants while simultaneously scrubbing, purifying and cleaning the air in your home.
Deodorize (Banish Lingering Odors)- The AirScrubber Plus easily attaches to your home's cooling and heating system to significantly reduce dust, pet dander and other odors that have built up in your home.
Purify (Reduce Irritating Particles)- The technology in the AirScrubber Plus uses specialized light waves along with a proprietary catalytic process to create enviro-scrubbing molecules of oxygen and hydrogen to help purify the air.
Protect (Extend the Life of Your HVAC System)- By trapping dirt, dust and other debris before it enters your HVAC system's filter, the AirScrubber Plus extends the life of your existing heating and cooling system.
How Do You Know if the AirScrubber Plus is Right for You?
Please take the following "Quality of Life Home Improvement Questionnaire" that the people at AirScrubber Plus put together. If you answer yes to at least one of the questions, it is worth considering having the AirScrubber Plus installed in your home.
Does anyone in your family suffer from allergy symptoms? YES / NO
Do you ever smell cooking odors, pet odors, smoking odors or musty smell in your home? YES / NO
Would you like to reduce dust, mold, pet dander or pollen in your home? YES / NO
Is there anyone in your house that can't afford to get sick? YES / NO
Would you like to reduce up to 90% of harmful contaminants on surfaces such as kitchen counter tops and bathrooms? YES / NO
Bob Cermignano Air Conditioning & Heating, Inc. has been proudly providing HVAC service to Ardmore and the surrounding Main Line area for 38 years. If you are interested in learning more about HVAC UV Lights, the AirScrubber Plus or IAQ solutions that can work for your home, please contact us at 610-642-6323 or email us at office@bobsredtrucks.com.